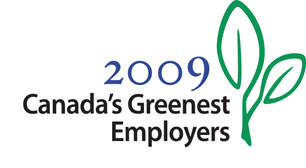 Officially launched in 2007, the Canada's Most Earth-Friendly Employers competition is organized by the editors of Canada's Top 100 Employers. This special designation recognizes the employers that lead the nation in creating a culture of environmental awareness in their organizations. These employers have developed exceptional earth-friendly initiatives — and are attracting people to their organizations because of their environmental leadership.  They are as follows:
EPCOR Utilities Inc. (Edmonton AB)
Fairmont Hotels & Resorts (Toronto ON)
Golder Associates Ltd. (Burnaby BC)
HSBC Bank Canada (Vancouver BC)
Hewlett-Packard (Canada) Co. (Mississauga ON)
New Flyer Industries Canada ULC (Winnipeg MB)
Toronto Hydro Corporation (Toronto ON)
Toyota Motor Manufacturing Canada Inc. (Cambridge ON)
Vancity / Vancouver City Savings Credit Union (Vancouver BC)
Resort Municipality of Whistler (Whistler BC)
Researching various employers and their reputations should be just as critical for you in your job search as it is for a hiring professional in researching the qualifications of a potential employee.